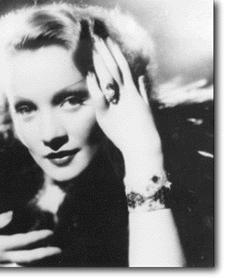 Marlene Dietrich was worldly, sensual, and always mysterious. Dietrich's impact has been so powerful, her image so truly unique, that her status as a Hollywood star of the first magnitude has never been questioned.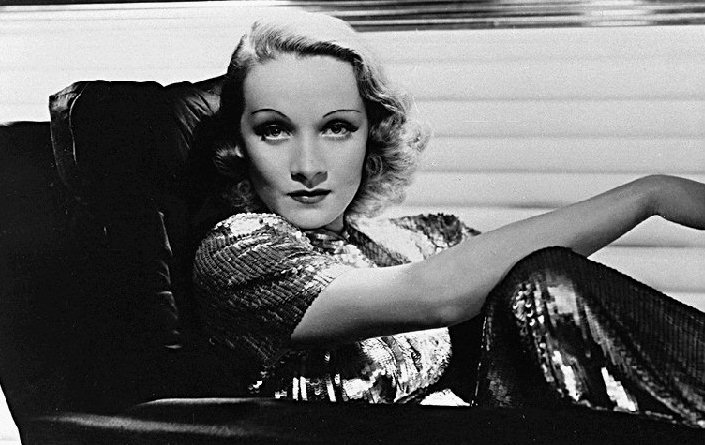 Born Maria Magdalena von Losch to a middle-class Berlin family, the young girl planned a career as a concert violinist until she suffered a serious wrist injury. The urge to perform, however, was still strong. She worked in the German film industry, starting as an extra. After studying at the Max Reinhardt Drama School, she appeared in quite a number of German and Austrian films and plays, also performing in several stage revues.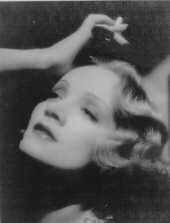 It was while she was dancing in a revue that director Josef von Sternberg spotted her. He had come to Germany to make "The Blue Angel" (1930) and Dietrich agreed to play the part of Lola-Lola. She later confessed that she thought the role would destroy her growing career.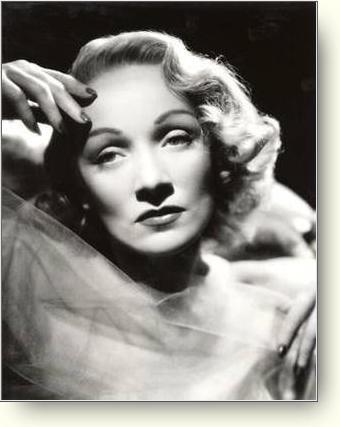 The result was just the opposite. Von Sternberg turned her into a blonde, changed her look from that of an ingenue into a world-weary sophisticate, and on the strength of his rough-cut of "The Blue Angel," Paramount signed Dietrich for one more film. The movie was "Morocco" (1930), in which she and Gary Cooper were directed by von Sternberg. Both films opened up in the United States at roughly the same time. Dietrich became an instant star. She was so popular that her then scandalous propensity for wearing slacks caused a sensation and a fashion revolution among women.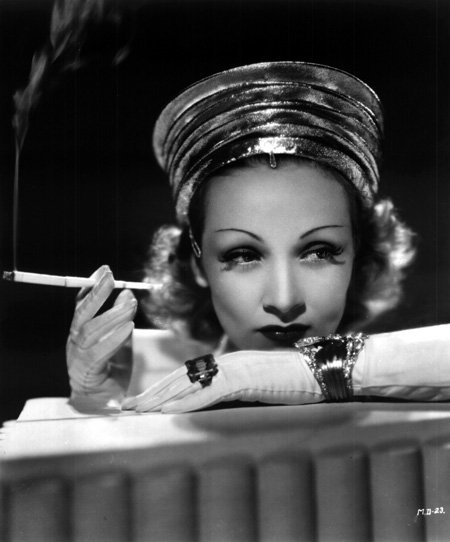 In 1935, Adlolf Hitler demanded that the famous German actress return to the Fatherland. Dietrich, an ardent anti-Nazi, refused, resulting in all her films being banned from Germany. Dietrich became a naturalized United States citizen and devoted most of her energy during World War II to entertaining Allied troops.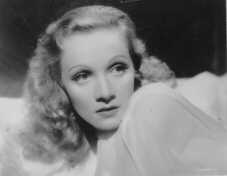 Dietrich broke box-office records touring as concert and cabaret singer from 1953-1975. She was actress, singer, fashion trend-setter and with her fine facial features, husky voice, and other physical and intellectual assets, was able to create an illusion of glamour that captivated film, theater, and nightclub audiences for almost half a century. Marlene Dietrich died May 6, 1992 of natural causes in Paris, France.
---
Marlene Dietrich Quotes
"Men cluster to me like moths around a flame, and if their wings burn I know I'm not to blame."
"Men's clothes are so much more comfortable."
"In real life most film people are a disappointment. I, on the other hand, am better in real life than on the movies."
"Success in life depends upon your sense of values."
"What is love? If you have known it, you don't need a definition form me. Love is something you shouldn't try to think about...it's something noble and grand and far beyond the reach of our reasoning."
"Glamour, in a word, is assurance. It is a kind of knowing that you are all right in every way, mentally and physically and in appearance... When other gather from your poise, appearance and command of yourself, that you have that inner assurance, you become glamorous in their eyes."
---
Filmography
•1979 Just a Gigolo .... Baroness von Semering
•1964 Paris - When It Sizzles .... (guest star)
•1962 The Black Fox .... Narrator
•1961 Judgment at Nuremberg .... Madame Bertholt
•1958 Touch of Evil .... Tanya
•1957 The Monte Carlo Story .... Maria de Crevecouer
•1957 Witness for the Prosecution .... Christine Vole
•1956 Around the World in 80 Days .... Hostess
•1952 Rancho Notorious .... Altar Keane
•1951 No Highway in the Sky .... Monica Teasdale ... aka No Highway (1951)
•1950 Stage Fright .... Charlotte Inwood
•1949 Jigsaw .... Nightclub Patron ... aka Gun Moll (1949)
•1948 A Foreign Affair .... Erika von Schluetow
•1947 Golden Earrings .... Lydia
•1946 Martin Roumagnac .... Blanche Ferrand
•1944 Follow the Boys .... Specialty
•1944 Kismet .... Jamilla ... aka Oriental Dream (1944)
•1943 Show Business at War .... Herself ... aka March of Time, The, Volume IX, Issue 10 (1943)
•1942 The Lady Is Willing .... Elizabeth Madden
•1942 Manpower .... Fay Duval
•1942 Pittsburgh .... Josie "Hunky" Winters
•1942 The Spoilers .... Cherry Malotte
•1941 The Flame of New Orleans .... Claire Ledoux
•1940 Seven Sinners .... Bijou ... aka Cafe of the Seven Sinners (1947)
•1939 Destiny Rides Again .... Frenchy
•1937 Angel .... Maria Barker
•1937 Knight Without Armour .... Alexandra
•1936 Desire .... Madeleine de Beaupre
•1936 The Garden of Allah .... Domini Enfilden
•1935 The Devil Is a Woman .... Concha Perez
•1934 The Scarlet Empress .... Catherine II/Sophia Frederica
•1933 Song of Songs .... Lily Czepanek
•1932 Blonde Venus .... Helen Faraday
•1932 Shanghai Express .... Shanghai Lily
•1931 Dishonored .... Mary/X-27
•1930 Der Blaue Engel .... Lola Lola ... aka Blue Angel, The (1930)
•1930 Morocco .... Amy Jolly
•1929 Die Frau, nach der man sich sehnt .... Stasha ... aka Three Loves (1929)
•1929 Gefahren der Brautzeit
•1929 Madame Ich kuesse Ihre Hand .... Laurene Gerard
•1929 Das Schiff der verlorenen Menschen
•1927 Cafe Elektrik ... aka Wenn ein Weib den Weg verliert (1927)
•1927 Eine Dubarry von heute ... aka Modern Dubarry, A (1927)
•1927 Sein groesster Bluff
•1926 Der Juxbaron
•1926 Charly! Kopf hoch
•1926 Madame wuenscht keine Kinder .... Bit Part ... aka Madame Wants No Children (1926)
•1926 Manon Lescaut .... Micheline
•1925 Die Freudlose Gasse .... Extra ... aka Joyless Street (1925)
•1923 Der Mensch am Wege
•1923 Der Sprung ins Leben
•1923 Tragoedie der Liebe .... Lucy
•1922 So sind die Maenner