' Judy Garland Gallery '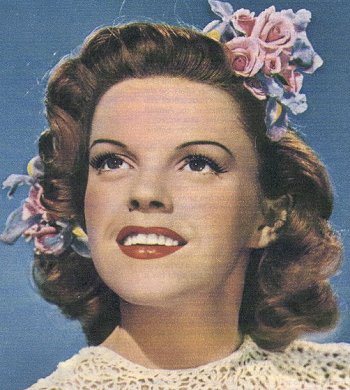 "Judy Garland worked for nearly forty-five of her forty-seven years. She made thirty-two feature films, did voice-over work for two more, and appeared in at least a half dozen short subjects. She received a special Academy Award and was nominated for two others. She starred in thirty of her own television shows (the programs and Garland herself garnering a total of ten Emmy Award nominations) and appeared as a guest on nearly thirty more. Between 1951 and 1969, she fulfilled over eleven hundred theatre, nightclub and concert performances, winning a special Antoinette Perry (Tony) Award for the first of three record-breaking Broadway engagements at the Palace. She recorded nearly one hundred singles and over a dozen record albums; Judy at Carnegie Hall received an unprecedented five Grammys in 1962 (including Album of the Year) and has never been out of print. Her radio work encompassed several hundred broadcasts, and she sang at countless benefits and personal appearances for the military. Earlier, between the ages of two and thirteen - and prior to signing her MGM contract in 1935 - she fulfilled hundreds of live vaudeville and radio dates with her two older sisters."
[John Fricke, Judy Garland: World's Greatest Entertainer, Holt, 1992]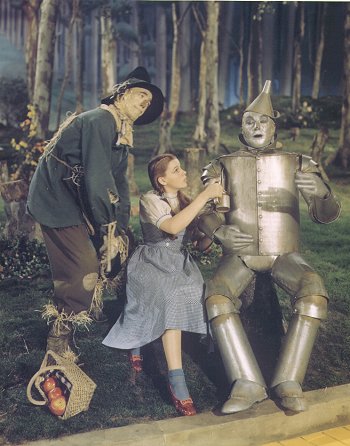 The Wizard of Oz (1939)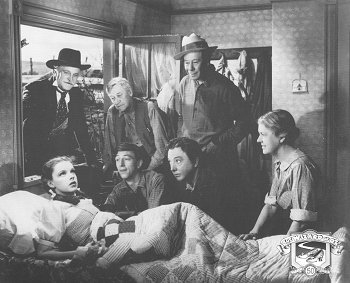 Frances Ethel Gumm was born on June 10, 1922 in Grand Rapids, Minnesota. She was named after her father (Frank) and mother (Ethel) who used to be vaudeville performers and owned a theater in Grand Rapids. She was the third of three girls; Mary Jane (nicknamed Susie) was born in 1915, and Dorothy Virginia (nicknamed Jimmie) was born in 1917. Frances was nicknamed "Baby", and was known as Baby Gumm until 1934 when she changed her name to Judy.
Judy's "debut" was at a Christmas show at her parents' theater in Grand Rapids on December 26, 1924 (she was 2½ years old). She sang numerous verses of "Jingle Bells" and thoroughly enchanted the audience. Susie and Jimmie were already performing as a song and dance duo at the time. The sisters became a trio shortly after Baby's debut. They were billed as the Gumm Sisters, and appeared at theaters and social functions in and around Grand Rapids.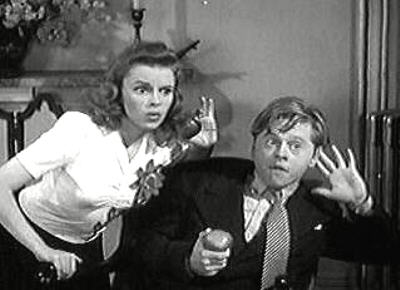 A picture from Babes on Broadway (1941) in which she co-starred with Mickey Rooney.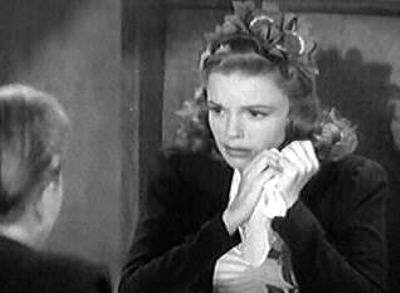 Yet another picture from Babes on Broadway.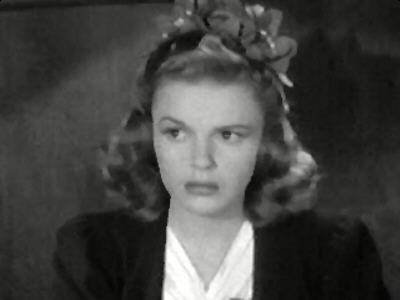 And another pic from Babes on Broadway. I like this one.. heh
In 1926 the Gumm family moved to Lancaster, California where Frank bought the local theater. The girls were soon taking dancing and acting lessons at various schools in the Los Angeles area. Ethel was the girls' agent and manager, and began finding bookings for the girls in theaters, night clubs and on radio. Within a few short years, the girls had a following of fans in the Southern California area, and were appearing regularly on local radio shows.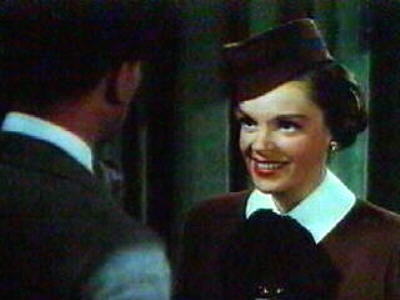 A picture from Easter Parade (1948)é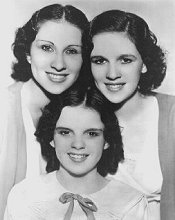 The Gumm Sisters appeared in a Meglin short subject called Starlet Revue in 1929 (also known as The Big Revue). Judy was seven years old. The girls also appeared in three Warner Brothers Vitaphone shorts in 1929, and in an MGM short, La Fiesta de Santa Barbara in 1935.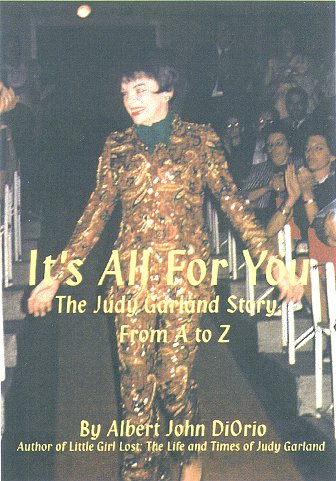 The Gumm Sisters traveled to Chicago in 1934 to perform at the World's Fair. While in Chicago, they appeared at the Oriental Theatre where George Jessel (a well-known comedian of the era) was headlining the bill. When Jessel introduced the Gumm Sisters to the audience, he noticed some quiet laughter, and later suggested to the girls that they change their name to Garland. Frances took the name "Judy" some time later because she liked the peppy sound of it, and she liked the Hoagy Carmichael song of the same name.
In 1935, Susie got married, breaking up the act. Ethel began pushing Judy toward a movie career, arranging for auditions at nearly every studio in town. In September 1935, thirteen-year-old Judy auditioned for MGM, and was signed immediately. She sang "Zing! Went the Strings of My Heart", and was accompanied by Roger Edens (of the MGM music department) at the piano. He would become the most influential person of her career, and would be closely associated with Judy throughout her tenure at MGM and beyond. Judy was said to be the only person ever contracted at MGM without a screen test. Judy's contract officially started on October 1, 1935. Her starting salary was $100.00 per week.
Judy was in a total of 43 films. Five of these were shorts she made before signing with MGM. At MGM, she made a total of 31 movies, 27 of which were feature films. From 1939 to 1950 she made 22 feature films. That's an average of two a year. She was the reigning "queen of the musicals" during that period, making more musicals than any other actress.
It is certainly true that many Hollywood stars made more movies than Judy, but it must be remembered that: a) nearly all of Judy's movies were musicals, which are the most demanding of movies - requiring not only acting but also singing and dancing; b) Most of her movies were made in the 13 year period from 1937 to 1950; and c) her movies were really only a small part of her career. While making movies, Judy also cut records, appeared at many, many benefits, appeared on hundreds of radio shows, appeared on dozens of television shows, and performed at over 1000 concert and nightclub engagements! Another point - nearly all of Judy's movies at MGM were major hits. All of her films broke all box office attendance records (including her own) with only a few exceptions.
Judy was officially elevated to star status by MGM in December 1938 while she was filming Oz. She had just completed her sixth feature film, Listen, Darling. Judy emerged from Oz as a superstar. After Oz was released, Judy was just about the most popular young actress on earth, receiving more fan mail than any star at MGM, and she was on the box office top ten list that year with not one, but two films in the top ten: The Wizard of Oz and Babes in Arms. Oz is certainly Judy's best remembered film today (it has been seen by more people than any other film ever made), but many of her films have become classics and now rank among the best movie musicals ever made, including Meet Me in St. Louis, Easter Parade, The Harvey Girls, A Star Is Born, In the Good Old Summertime and The Pirate.
Judy left MGM in 1950, after filming Summer Stock. Her illness had become steadily worse since about 1947, and she was no longer able to function at the pace which MGM demanded of her. She was nearly constantly under medical supervision, but MGM was not overly sympathetic with her plight. She was suspended several times in 1950, and finally both MGM and Judy had all they could handle. L.B. Mayer and Judy both agreed it would be best to terminate her contract at that time. Judy's problems with MGM were front-page news, and Judy even wrote an open letter to her fans, which can be found right here on the Judy Garland Databse.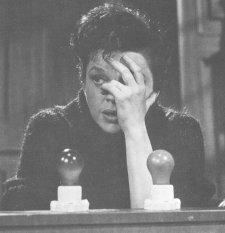 After leaving MGM, she began her concert career, under the management of Sid Luft, who became her third husband. In 1951, she reopened the Palace Theater on Broadway, and broke all attendance records with a show which was held over for 21 weeks. In 1954 she returned to movies with a contract with Warner Brothers to produce A Star Is Born - her personal masterpiece of film work (and certainly one of her best films). During the remainder of the 1950s, she continued her concert touring, with many very successful tours in the US, England and Europe. She also appeared in several television specials. In 1960, she renewed her film career, appearing in another series of films, including Judgement at Nuremberg, for which she received another Academy Award nomintion. In 1963/64 she had her own television series on CBS, The Judy Garland Show. The show was a critical success, but did not score well in the ratings (primarily because CBS refused to move her spot which was across from "Bonanza" on NBC - one of the most popular series ever). After her TV series failed, Judy found herself financially in ruins with her health failing rapidly. She continued to perform concerts and nightclubs, and her life seemed to spiral out of control as she married and remarried within a period of 3 years, broke many concert and night club engagements, and was in court battling over lawsuits with night club owners and producers. Most of the money she did make was taken by the IRS for back taxes. Her home was seized by the IRS, and she found herself homeless. She had to work, but was really too ill to perform. She finally found the ultimate peace on June 22, 1969, less than two weeks after her 47th birthday, when she was found dead in her bathroom by her latest husband, Mickey Deans. Judy made one last "comeback" as more than 22,000 people paid their respects at her final appearance at Campbell's Funeral Chapel in New York on June 27, 1969...
Here are some Judy Garland caricatures I shamelessly stole from some dude's web page. They are pretty cool, no? I especially like the one by Al Hirschfeld who has done covers for TV Guide including the 4-part cover to TV Guide depicting Seinfeld characters Jerry, George, Elaine, and Kramer that was issued the week of the last episode of Seinfeld. I hope you know what I am talking about. @.@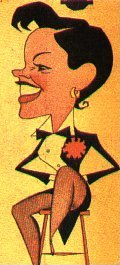 Judy in "A Star is Born" (1954)
drawn by Jacques Kapralik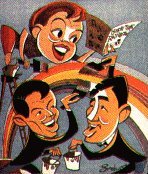 Judy on the cover of
"Showtime"in 1962. Also
pictured are Dean Martin
right, and Frank
Sinatra left. Artist unknown.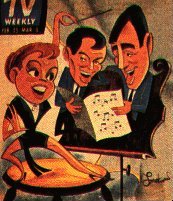 Judy on the cover of TV Weekly
for Judy Garland TV Special
1962. Again, there's Dean and Frank
with her. Artist unknown, but it's
probably the same person who made
the previous picture.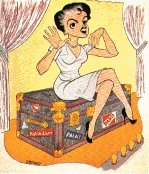 An advertisement that appeared in
newspapers for The Judy Garland Show
in 1963. Artist unknown.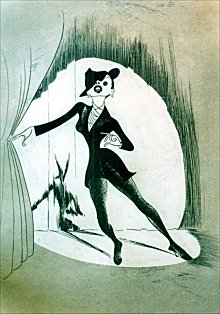 A picture drawn by Al Hirschfeld
in 1974, five years after Judy's death.
BACK